Welcome to SICC
Superior Innovative Coating Concepts
SICC Coatings is a leading developer of paints and construction products that provide characteristics beyond the decorative aspect which contribute immensely to the well-being and health of people. Far ahead of the trend to energy saving, years ago SICC Coatings already produced and provided coatings that are applied like any ordinary coat but clearly reduce energy consumption for heating and cooling buildings.
The products of SICC Coatings send clear messages even for removal of moss and algae on facades, solving interior and exterior problems with humidity, mildew-renovation and special hygienic demands of allergic persons. Next to the human wish for comfort through a well-balanced indoor climate, energy saving and environmental protection are main priorities!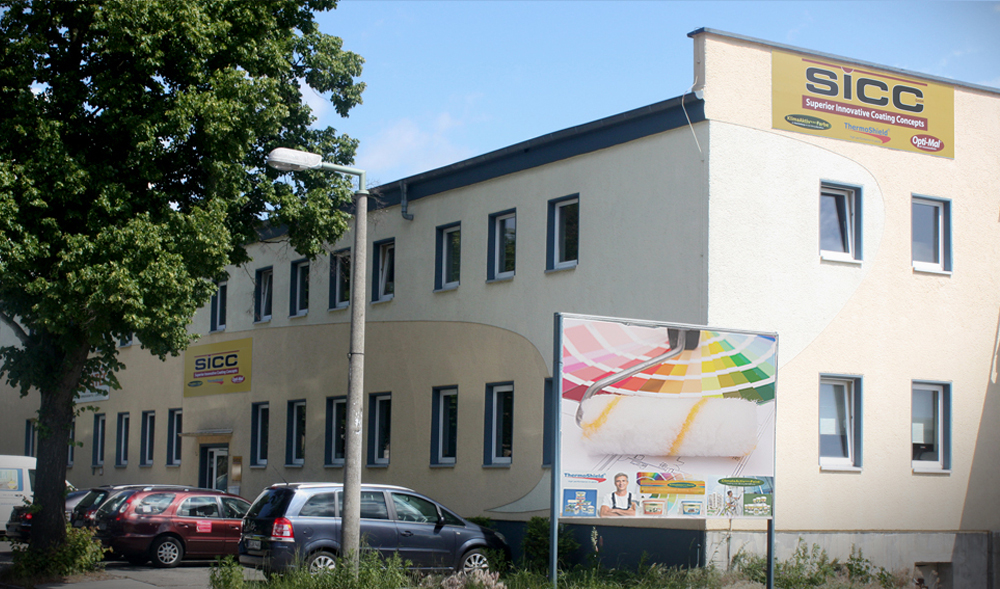 Company Information
SICC Coatings GmbH was founded on 5th March 2003 under German law and registered on 28th April 2003 in the Commercial Register of Berlin-Charlottenburg under the number HRB 88 630. The purpose of the company is the development, manufacturing and distribution of innovative high-tech coatings, whose characteristics step out by far simple decoration aspects, characteristics with enormously contribution to the well-being and health. The sensationel and convincing new development of the ThermoShield technology made by the partners and friends of Joe Raver, have convinced the former president of SPM ThermoShield
Inc. and led him to become part of SICC Coatings GmbH with headquarter in Berlin in 2003. Since March 2003, Mr. Joseph Lloyd Raver is one of the founding shareholder of the company. Together with a team of scientists and highly qualified professionals, from whom every individual can be stated with pride as a specialist in his area, the company operates globally and is the leading supplier of thermo-ceramic membrane technology with endothermic effects.
Technology
We are manufacturer of innovative paints for buildings, interiors and industrial applications. Our products are based on thermo-ceramic membrane technology with endothermic properties. The secret lies in a specially developed vacuumized glass ceramic sphere, combining with high-tech adhesive, specially developed dispersions with activators.
These products offer a wide variety of applications to our world-wide customers. For exterior uses, our coating protects your home or office against the harsh elements in all seasons as temperatures rise and fall throughout the year. In addition, it equalizes your energy consumption all the while keeping an aesthetically pleasing look to your home or office. In June 2018, we received the "German Innovation Award" for the energy-saving effect of the technology.


Contact
We are pleased that you want to get in touch with us!
Please fill out all fields of the contact form and we will take care of your request as soon as possible.
Wackenbergstraße 78-82, DE-13156 Berlin
info@sicc.de
+49 (0) 30 500 196-0
+49 (0) 30 500 196-20

Note: By submitting your requests via the send button, you agree that your details from the contact form may be collected and processed in order to answer your request. The data will be deleted after processing your request. You can revoke your consent at any time by e-mail to info@sicc.de. Detailed information on handling user data can be found in our privacy policy.